Follow this Blog
---
---
Deep Springs From Which One Could Drink
by Bill Fletcher on 5/2/2013 8:50:36 AM
Comment on this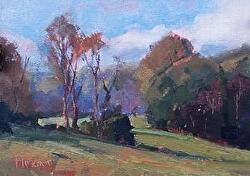 Yesterday was one of those "living the dream" kind of days.
I spent the morning painting with friends along Lower Howard's Creek, and then spent the afternoon painting by myself in the woods and fields of Shaker Village.
It was one of those incomparable clear, crisp, sunny, perfect Kentucky Spring days, and I was so glad to be out in it, hiking and painting amongst the cliffs and rivers and limestone creeks, water rippling here, still and deep green there, unbelievable profusion of wildflowers, flowing grasslands, copses of trees, vistas...
Kentucky has always had a reputation for rare and astounding natural beauty. Some 250 years ago, early visitors to this area spoke of magnificent towering ancient woods, of great grassland savannahs that bloomed nine months of the year, teaming with Bison, Elk, and other wildlife. Chestnut trees so big that 150 people could sit in the shade of one tree.
Things have changed, but echoes of the old forest can still be heard in the woods of today, and I am grateful to have been immersed them for this one perfect Spring day.
There is a timeless even spiritual resonance to be found here; deep springs from which one could drink.
Comment on or Share this Article >>
---
'Tis a Gift
by Bill Fletcher on 5/20/2010 8:44:53 PM
2 Comments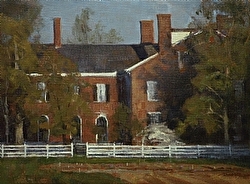 "A Morning in April" 12x16

One April morning I rose early and headed out to Shaker Village. This Spring has been one of the most beautiful in memory and this particular morning was so perfect I just had to get out and try to make some art. I strolled around the village soaking up the good energy, looking for interesting value shape patterns and pleasing divisions of space.
Mid-April in Kentucky can be artistically challenging; some of the trees haven't leafed out and are still nearly bare creating a wintery look, while the thick green grass and sunshine and everything blooming yields a full blown Spring look. It can send mixed messages if you paint the trees with too sparse of foliage. But I've got to say, on a day like this, well, who cares. It is a gift to walk in this place among the Shaker's architecture and beside the old trees and gardens in the peace and quiet and feel the sun on my shoulders.
This painting is from a photo taken on my walk. This building is the dining room at the Inn at Shaker Village. Before it you see the spring garden, with markers showing where various crops were planted. Inside is the smell fresh coffee and the clink of plates and silverware as people enjoy their breakfast.
I hope this painting evokes within you the same good early Spring feeling I had while I was there.
Comment on or Share this Article >>
---
Winter has Come
by Bill Fletcher on 12/21/2009 2:55:41 PM
2 Comments



"Winter Solstice" 7" x 10"


A purplish gray light comes through my window this morning. Outside is a dark, cold and quiet world dusted with snow. It is stark, bleak; and silent. Winter has come.

I find it inexplicably beautiful, and can't help but wonder why? What is in this that speaks to me? And what is it within me that is being spoken to and can hear it?

Honestly, I'm not sure, but somewhere deep in my marrow I know the Wheel in the Sky has turned and that it is the time for holidays and family, for rest, sleep and dreams.

Winter has come.


If you have interesting ideas about why the starkness of Winter can be emotionally evocative and even beautiful (to some at least), I'd love for you to share your ideas in the comments on this blog.
Comment on or Share this Article >>
---
Arizona
by Bill Fletcher on 11/24/2009 12:26:46 AM
3 Comments



"Arizona" 14" x 18"

I don't know what I was expecting when I went to Arizona last January, but I wasn't expecting the colorful, starkly beautiful, ancient and expansive land I found. It was really something.

Arizona is so different than Kentucky. Here in the eastern United States Nature seems gentle, rounded, fertile, inviting, providing, even motherly. But in Arizona the scale is so large, and it's all desert and red granite cliffs and well, though astoundingly beautiful, the land seems unforgiving. In olden times someone traveling across Arizona either knew where they could reliably find water (in what they referred to as "tanks") or they perished. Hmmm... maybe not just in olden times.

If all goes according to plan, I'll be walking across the red granite of the Superstition Mountains east of Phoenix late this upcoming January. And I'll be hoping to not have to rely on the "tanks" as I'll be packing a LOT of water. And my camera. Hopefully, some good art will come of it!
Comment on or Share this Article >>
---
Paris
by Bill Fletcher on 11/15/2009 11:27:37 PM
1 Comment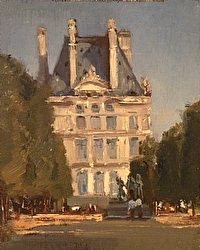 "Paris" 10" x 8"




Like many European cities, Paris offers an incredible bounty of aesthetics and antiquity. Everywhere you look there are beautiful old buildings, sculptures, gardens, bridges, streets, and lots and lots of people everywhere enjoying it all. It is food for the artist's soul. I walked for many miles while I was there, and here is a little 10" x 8" from a sunny afternoon stroll near the Seine.
When painting a scene like this I attempt to represent human figures as simply as I can and still infuse them with gesture, balance, grace, and life. In the lower right hand section of this painting you can see a couple taking in the statue before them. A few strokes of paint and voilà we have a man and his wife considering Rodin.
Comment on or Share this Article >>
---
Lights! Atmosphere! Action!
by Bill Fletcher on 9/30/2009 6:18:50 PM
6 Comments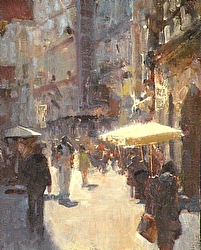 On the Way to Stephen's Platz

I recently returned from my first trip to Europe, and as those who have traveled in Europe know, it is a visual feast for artists!
Here is a street scene for you, from Vienna, Austria. With map, compass and camera in hand, I was attempting to weave my way on foot to Stephen's Platz, the site of an extraordinary gothic cathedral in the center of the old town, and I suspected I was getting close but couldn't really tell. It didn't matter much because scenes such as this just kept presenting themselves every minute.
In this painting, I attempted to convey a sense of light and atmosphere along with the bustling activity on the street. So how to make something look really lit up? In painting the sunlit umbrellas of the outdoor cafe, I recalled two useful concepts; "flat looks lit" and "the halo effect". Really strong light burns out detail; our eye just can't see into such bright light and that creates a "flat" look to the object. A halo of light surrounding the umbrellas also makes them look as if the light striking them is so strong that it bursts into full luminescence upon them and scintillates into the surrounding atmosphere. This "halo effect" if done subtly can really make something look lit up, but if overdone can make the object look as if it was sent from God-- not what I was going for. Balance is the key.

More paintings from Europe to come!
Comment on or Share this Article >>
---
More Than a River
by Bill Fletcher on 9/5/2009 9:24:17 PM
1 Comment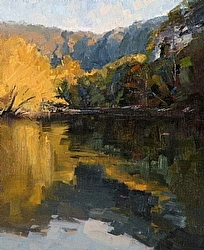 "End of Summer" 8x10

It's nice here this morning. Our skies are mostly clear. It is a gentle and coolish summer morning, always these days with a hint of Fall. Just a hint. Maybe it's the shorter days, the longer shadows, the quality of the light, or a change in smells, or the obvious coolness, but really, who knows what we perceive and understand on a subconscious level. We are after all animals: human, goose, heron, muskrat... all of us expressions of the same "something"... all of us part of the same "whole".
That's what was running through my mind just a few days ago while canoeing on the Dix River. The above painting was done from a combination of photographs, feeling and memory. Fall colors aren't due until next month here in Kentucky, but because I pushed the warms in the sunlit areas and cools in the shadows to get more of the feel of strong sunlight I ended up with a painting that carries an "end of Summer/early Autumn look". It might not be coincidence; that "look" reflects many of the feelings and thoughts I was experiencing while there on the river.
Maybe this painting will evoke end of Summer/early Autumn feelings in you too, and if it does, then perhaps the subject of this painting has become something "more than a River".
Comment on or Share this Article >>
---
Connection: A Deep Woods Waterfall
by Bill Fletcher on 8/21/2009 4:57:56 PM
4 Comments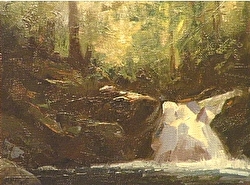 "Deep Woods Falls" 6" x 8" $350

Just like in a classic chiaroscuro still life, this painting is about mystery in the shadows and an intensifying path of light revealed by the objects upon which it shines. At one level it is about light and mystery; at another level it is about the literal and psychological power of water.

I find the "mystery" part especially fitting, as this waterfall resides beside one of the oldest trails in the Smokies. What is now called the "Road Prong" trail is in fact an ancient trail that existed prior to the settlers' arrival to the region, and was known in the 18th century by the name of the "Indian Gap" trail. Makes you wonder, doesn't it.

It is a beautiful thing to be walking immersed in the deep woods and find an unexpected "power spot" such as this. How many times over the centuries have people traveling this trail sat beside this very falls where I sat and felt wonder at the drama, beauty and mystery of Nature? How many before me have sat there and felt connection to the whole?

Connection: one of the main reasons I hike, and paint.

Comment on or Share this Article >>
---
Simple and True: Painting Clouds
by Bill Fletcher on 8/15/2009 3:15:35 PM
1 Comment



"Clouds Over Heritage Park" 7"x 10", SOLD


Clouds can make challenging and wonderful subject matter, and towards the turn of the day, they can take on such subtle yet beautiful tones. I often go out with my dogs, sketch kit and backpack chair in the late afternoon when the cumulus clouds are building and sit out somewhere lost in the country sketching clouds. Here's a few examples of what I do, each being about 2 x 3 inches:





For me, the trick with clouds (and maybe for anything) is to paint them simply and still strive to maintain exquisite fidelity to their drawing and character. We do want to get the feel without overworking, and towards that end I analyze patterns of shapes, prepare to distill areas with numerous colors and values down into one tone, simplify lines and masses and really leave out as much detail as I can get away with. But at the same time, I am extremely careful to get this simplified drawing "right". It's about letting go of trying to be literal, while at the same time still maintaining fidelity to the drawing and the character of what we are painting.

To quote David Leffel, "rendering is longhand: painting is shorthand". At its best, painting is really effective shorthand.

That's a key for me: simplify and still strive for exquisite accuracy, so that it will ring true and keep its strength, undiluted by superfluous detail.


Comment on or Share this Article >>
---
Daily Disciplines
by Bill Fletcher on 8/13/2009 2:03:25 PM
Comment on this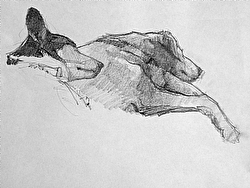 Casey and Molly


No offense meant to them, but my figure drawing models are dogs!

Molly, the hound mix on the right is a luscious dare I say full figured blond; what we might even call "Rubenesque". Casey on the left is a sculpted Jack Russell Beagle mix (I call him a "Jack Regal"), and though he is getting along in the years he still dreams of finding and slaying a mastodon. No luck yet.

These dogs are not only my traveling companions in life, going hiking and plein painting with me, but they also stand in as my daily figure drawing models. The great artist and teacher Quang Ho says that throughout all the classes and workshops he's taught the number one problem plaguing art students is drawing. And the number two problem... also drawing. I've been told the inscription over the entrance to the Louvre translates to "well drawn is well painted".

If "success is a few simple disciplines practiced daily", then I should choose to spend time drawing each day so that I can become a better painter. So I do.

In the quiet time of each morning I get on the couch with my dogs, a cup of coffee beside me, and practice the very enjoyable daily discipline of drawing, including drawing my lovely napping dogs.
Comment on or Share this Article >>
---
billfletcherstudio@gmail.com